Home
Gwangmyeong Sungae Hospital
Parking
The hospital is accessible
by car or public transportation, including subway, bus, and taxi.
Space is limited. The use of parking facilities by visitors on non-hospital business causes inconvenience for patients.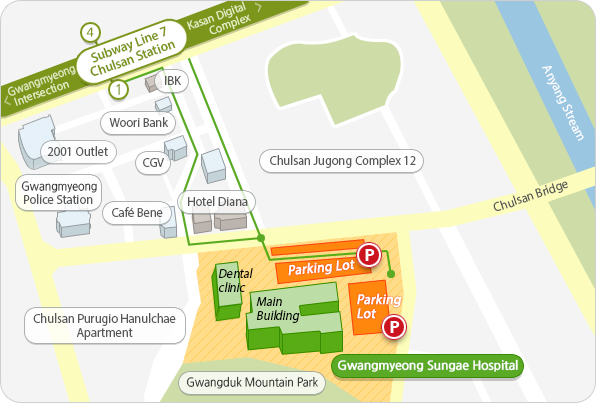 Parking office

02-8407-737
Parking rates
Parking rates
Outpatients/medical checkup
4 hours (with validation)
W500/10 minutes afterwards
Check-in/check-out date
Free with validation
Emergency vehicles/official visitors
1 hour free (with validation)
W500/10 minutes afterwards
Funeral hall visitors
1 hour free
W500/10 minutes afterwards
Handicapped
50% with welfare cards
W500/10 minutes afterwards
Visitors
10 min free/W1,000/30 minutes
W3,000/60 minutes
W500/10 minutes afterwards
Notes :
1. Please present medical bills for free parking.
2. Parking rates apply for in-hospital stays.
3. Official vehicles are eligible for one hour of free parking with official validation.
4. The hospital is not responsible for damage to vehicles.